With Labor Day fast approaching, it's time to start prepping all your BBQ needs. It does not meet your nutritional needs. What that means is that it may be time to eliminate some of these barbecue foods and replace them with something healthier.
There are some foods to avoid at a barbecue, but which ones are worth keeping off the picnic table? Brittany Dunn, MS, RDN, CDperformance nutritionist, Creamy salad is the #1 food you should never eat at a BBQ.
When you think of creamy salads, think potato salad, macaroni salad and coleslaw. Creamy salads are usually made with ingredients such as mayonnaise, which are high in calories.
"These salads are typically high in fat and high in calories per serving," says Dunn.
Why Mayo-Based Salads Are The Worst Food You'll Eat Out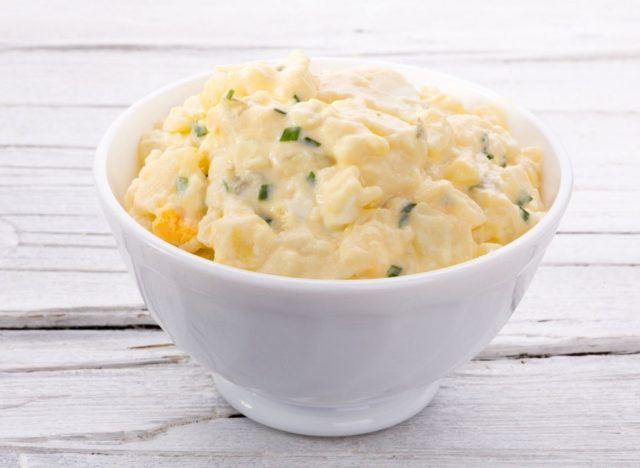 For example, consider a standard potato salad with eggs. A half cup of this salad contains 11.8 grams of fat, according to the USDA. According to American Dietary Guidelines, fat should account for 20-35% of his total daily caloric intake. For example, if he weighs 150 pounds, this equates to 34-68 grams of fat per day. Eating just half a potato salad doesn't mean you're eating too much fat for the day, but when you combine it with other unhealthy creamy salads and unhealthy barbecue dishes, the day is already maxed out.
"It's also more susceptible to spoilage in the summer heat, which can increase the risk of foodborne illness," Dunn says.
Leaving starches (such as macaroni in macaroni salad) out for too long also increases the risk of food poisoning. This is caused by a bacterium called Bacillus cereus. This bacterium can also thrive thanks to the nutrients found in rice, dairy products, spices, dried foods, and vegetables, which are abundant in creamy salads.
Healthy Swap for Mayonnaise-Based Salads
But for those who can't stop eating delicious salads, Dunn has some ideas for making them healthier.
"If you're still looking for a creamier texture, make a salad with non-fat Greek yogurt to improve the nutritional profile," she says.
Other alternatives when making creamy salads:
Increase the ratio of vegetables to macaroni/potatoesVegetables not only add a crunchy texture, but also increase vitamins and other micronutrients.
Vary the type of potato or pastaUsing sweet potatoes or bean-based pastas can increase the nutrient density of a dish.
keep food cold if possibleFor example, keep creamy salads on ice or store them in the cooler.
Other Worst Food to Have on Your BBQ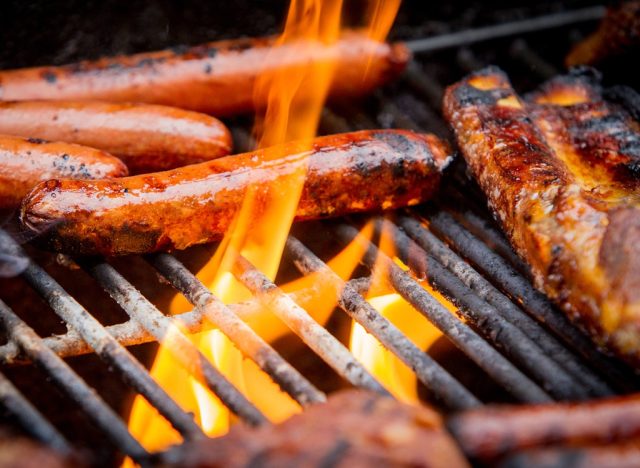 Dunn goes one step further and suggests other foods to avoid at your BBQ. If you're focusing on grilled foods, it's best to avoid sausages and hot dogs.6254a4d1642c605c54bf1cab17d50f1e
"Meat can contribute to highly processed meat and sodium consumption," Dunn says.
Instead, she recommends opting for chicken or turkey sausages, which are usually lower-fat, lower-sodium options.
Chips and dips are a popular and easy option when it comes to snacking. However, Dunn advises avoiding these as well.
"It's easy to overeat chips and dips," says Dunn. "Eating more chips than a serving size can add sodium and fat. Dips can be creamy and cause similar problems as creamy salads."
Instead of snacking, Dan suggests using a fat-free Greek yogurt base for dipping, or offering hummus or other vegetable-based dips. Or, serve cut vegetables instead of chips.
remove
At the end of the day, eating foods that aren't traditionally included in your daily diet, such as creamy salads and hot dogs, won't improve or worsen your overall health. If you want to add these to your plate, keep portion sizes small and eat mindfully… most of your meal.
Kayla Garitano
Kayla Garritano is a staff writer for Eat This, Not That! She graduated from Hofstra University where she majored in Journalism and minored in Marketing and Creative Writing.Read more about Kayla