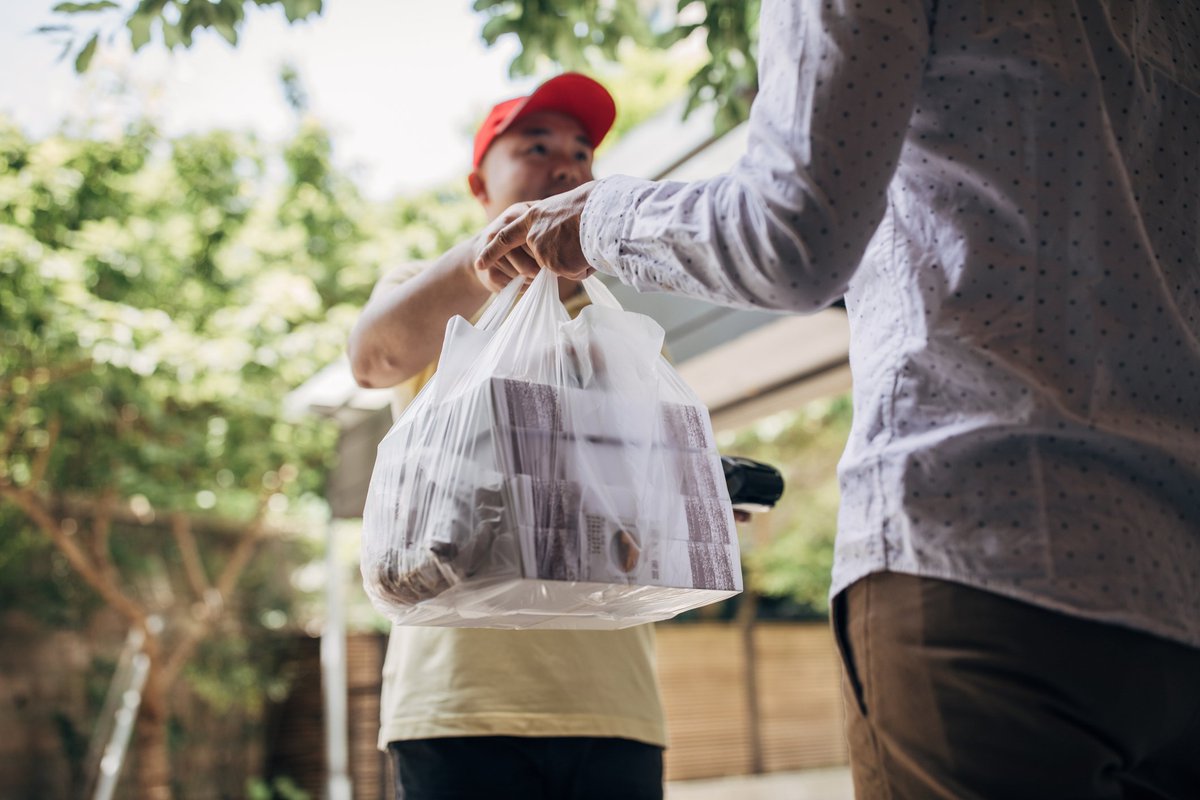 Find out how to get free delivery with your favorite food delivery app.
---
Key Point
Food delivery apps are a convenient solution, but they can get expensive if you're not careful.
Thanks to free delivery perks, memberships in paid food delivery apps can make your next order cheaper.
Grubhub+, DashPass, or Uber One benefits may be available for free.
---
Delivery apps make it easy to get food delivered to your doorstep. But unless you invest in a food delivery membership that offers perks like free delivery, delivery costs can add up and hurt your budget. However, you may qualify for free delivery in another way.
The use of food delivery apps has increased significantly in recent years, especially since the start of the COVID-19 pandemic. Not having to spend time cooking meals for your family or hopping in your car to pick up a takeout order is a convenience that can save you time and minimize stress.
Some sign up for memberships on delivery apps that have perks like order discounts and free deliveries. While this can make delivery more affordable for those who frequently order takeout, these memberships can be costly and squeeze your budget.
However, you may be able to get one of these memberships for free. Let's try some methods.
grub hub+
Grubhub+ is a paid membership service provided by food delivery app Grubhub. Members receive $0 shipping on orders over $12 from participating restaurants. This service costs $9.99 per month, but may be available for free.
There are two ways to earn a free Grubhub+ membership:
Amazon Prime members get Grubhub+ free for 1 year
Eligible Bank of America credit and debit cardholders are eligible for 1 year of Grubhub+ (as of September 6, 2022).
Get a 1-year free Grubhub+ membership and save about $120.
dash pass
DoorDash offers a DashPass membership for $9.99/month. Members receive $0 shipping on qualifying orders and discounted service fees. If you have a valid credit card, you may be able to take advantage of this free shipping service at no additional charge.
Here's how to get a free DashPass membership:
Eligible Chase credit cardholders can get DashPass for 3 months to 1 year, depending on the card they own. (as of 22/9/6)
You can check your eligibility by viewing the promotion details to see how long this giveaway is available. All eligible Chase credit card users must activate their free DashPass benefit by December 31, 2024.
Get 3 free months of DashPass and save about $30.
Get DashPass free for 12 months and save about $120.
uber one
Uber Eats also has a paid membership program called Uber One for $9.99 per month. Members can take advantage of $0 delivery on participating orders, as well as perks like discounts on Uber rides and pick-up orders for his Uber Eats. However, some customers can use this service for free.
Here's how to get a free Uber One membership.
Disney+ subscribers can get a free Uber One membership for up to six months.
This giveaway is only available to new Uber One members. Hurry up as this offer must be activated by September 19, 2022.
Get 6 months free with Uber One and save about $60.
Before you rush out and pay a monthly fee for a streaming app, check to see if you meet the requirements for a free membership.
You can put more money in your pocket while taking advantage of the same perks paid distribution app members receive.
Check out our personal finance resources for more ways to save money.
WARNING: The Highest Cash Back Card We've Ever Seen Has 0% APR Until Nearly 2024
Using the wrong credit or debit card can cost you a lot of money. Our experts love this top pick with a 0% first-year APR until nearly 2024, an insane cashback rate of up to 5%, and somehow no annual fee for everything.
In fact, this card is so good that even our experts personally use it. Click here to read the full review for free and sign up in just 2 minutes.
read free review