Unusually heavy monsoon rains and devastating flash floods are estimated to cost the cash-strapped Pakistani economy more than US$4 billion in the current financial year as it severely impacted agricultural activity in Sindh and Balochistan provinces. I'm here.
Although it is too early to assess the actual impact, Pakistan, where agriculture accounts for 23% of its gross domestic product (GDP), has seen nearly 1,000 people killed and thousands more injured and evacuated from the floods. After that, it may remain very vulnerable. From mid-June.
The monsoon season, which began in June, has hit Pakistan with particularly heavy rains this year, and rescuers have struggled to evacuate thousands of stranded people from flood-affected areas. forced the government to declare a state of emergency in parts of the country.
Impacts from the flash flood could include higher imports, compromised exports and higher inflation, which could undermine government efforts to tackle macro headwinds, the Express Tribune reported. .
"Based on our preliminary estimates, the current account deficit could increase by USD 4.4 billion (1% of GDP) – assuming no action, the CPI (consumer price index) basket About 30% are at risk: the threat of rising prices," the daily reported, citing a report by JS Global Research.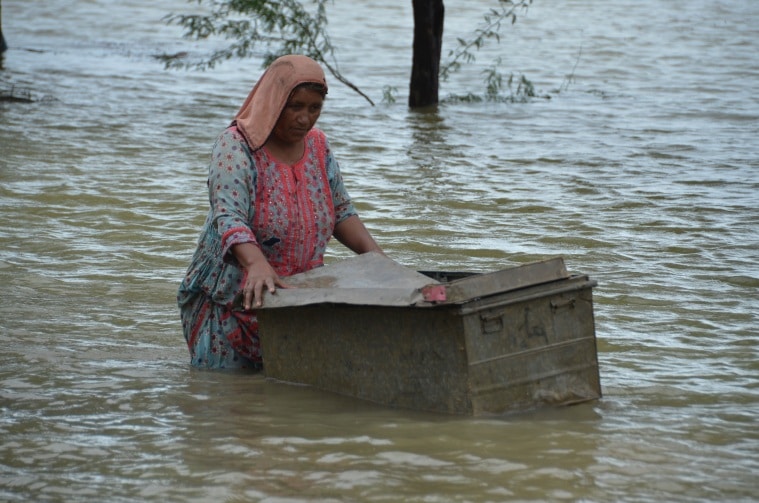 A woman uses a trunk to retrieve usable items from her flood-hit home in Jafarabad. (AP)
The situation could force the government to import an additional US$2.6 billion worth of cotton, US$900 million worth of wheat, and the country would lose about US$1 billion worth of textile exports. This amounts to approximately US$4.5 billion (1.08% of GDP) in the current fiscal year 2022-23. Consumers are expected to face supply shortages of household groceries such as onions, tomatoes and chilies due to flash floods, according to the report.
The most affected crop is cotton. The farmer produced his 8 million bales in the previous financial year, but heavy rains in Sindh will again reduce yields as in previous years. "Cotton planting has reportedly been largely destroyed[in Sindh]. imports could exceed USD 4.4 billion (+144% y/y).
On the other hand, the lack of availability of imported raw cotton and other unprocessed fibers will adversely affect the country's textile exports," the research firm said.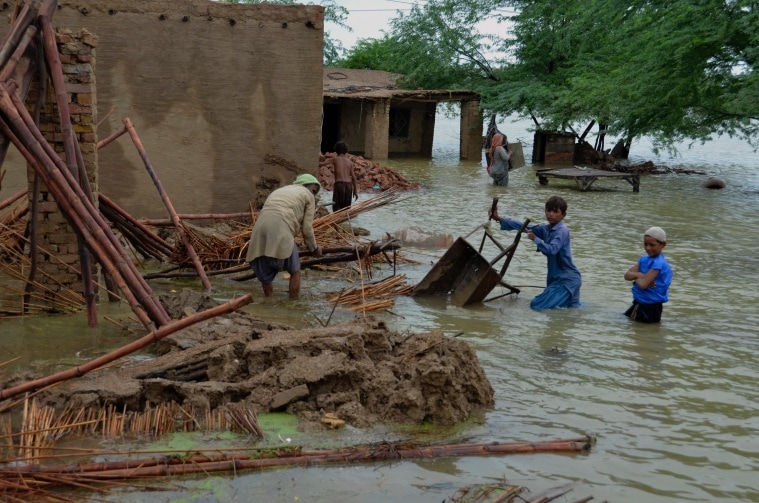 A family collects usable items from their flood-hit home in Jafarabad, Baluchistan province, southwestern Pakistan. (AP)
Rice is another crop that is expected to withstand extensive damage from ongoing flooding. He is one of the few crops whose cultivated area has increased significantly in recent years (+20% in two years). The annual export value he has is US$2.5 billion. "Rice damage will lead to a slight drop in GDP growth and an increase in CPI inflation, as well as loss of exports." , may delay the sowing of wheat and edible oilseeds. A delay in wheat plantations would be a double blow as many farmers have already switched from wheat to edible oilseed cultivation. Moreover, post-flood conditions are expected to negatively impact future wheat yields. Importing 15% of the 30 million tonnes of wheat demand could bring the value of imports to his US$1.7 billion in FY23 due to delays in sowing and rising wheat import prices.
Alongside crops, more than 500,000 livestock are reported to have died in the floods. This will add to the burden on rural populations already reeling from diesel and fertilizer price hikes, and will lead to shortages of milk supplies. In addition, livestock shortages, combined with the possibility of disease outbreaks among cattle, can lead to meat shortages.
Together with wheat, cooking oil, milk and meat, it accounts for 18% of the CPI basket weight. It poses a high risk of food inflation (28%; 13-year high). "Risks to food security, scarcity and bottlenecks in supply chains will increase the existing FY23 CPI estimate of 21%. Sectors adversely affected by flash floods include fertilizers, banks, tractors and oil distributors. are expected to include," the report said.