Luis Diaz doesn't say Liverpool have had a 'problematic' start to the season, but says they have to do better after picking up just two points from their first three Premier League games. I admit it.
Jürgen Klopp's side lost 2-1 to Manchester United on Monday after draws at Fulham and home to Crystal Palace. As a result, Eric Ten Hag scored his first points as a Manchester United manager on his third request.
These results keep Liverpool in 16th place and although the season is just beginning, Diaz admits the situation needs to improve.
Watch Free: Highlights of Manchester United's win over Liverpool in the Premier League

"It was a bit of a difficult start," said the Colombian forward. "The beginning of the season is not what we wanted. We are a club that goes out to score three points from every game we play.
"I'm not saying it's a problem for players or coaches, but we certainly all know that we need to improve."
Liverpool entered the game as strong favorites at Manchester United given their opponents started the season with defeats to Brighton and Brentford, but Klopp's side finished 5-0 in the same match last season. 0 wins.
But goals from Jadon Sancho and Marcus Rashford saw Liverpool lose for the first time in five Premier League visits to Old Trafford, with Diaz saying: "We knew it was going to be a difficult game.
"We were very aware of what kind of rivalry existed between clubs and we knew we had a big job ahead of us. It didn't go well that day.
"We now know that we have to do our job, train hard, rest hard and look forward to the next match.
Jamie Carragher, Gary Neville and Roy Keane in Manchester United's memorable 2-1 win over Liverpool and why Jürgen Klopp's men weren't in the race at Old Trafford discuss about

'Liverpool fans are the best'
Diaz has admitted he is not happy with Liverpool's current situation, but admitted he is positive about his own performance.
The 25-year-old started the run after arriving at Anfield for £49m from Porto in January and has been impressive in the early stages of this campaign, notably with a great individual effort that brought ten-man Liverpool points. continued to exist. vs Palace.
Watch Free: Highlights from Liverpool's 1-1 draw with Crystal Palace in the Premier League

"Personally, I feel great," Diaz said. "I had a good start. I'm happy with my performance, I feel good and it's been a very successful arrival.
"I am very happy to contribute my grain of sand to the whole team. We all need to contribute in that way.
"I'm very happy to be at this great club with great players and it's a very professional environment I've experienced.
"The important thing now is to improve and get the right experience for the rest of the season."
Diaz's play against Palace thrilled the Anfield crowd as they looked headed for a shock home defeat.
"I want to thank God for scoring that goal," Diaz said.
"I think it's important to allow yourself to take chances to score consistently.
"My fans, from the beginning I felt a strong passion, respect and love for me. I felt it right away. I feel they are the best fans."
Diaz: Great to play with Salah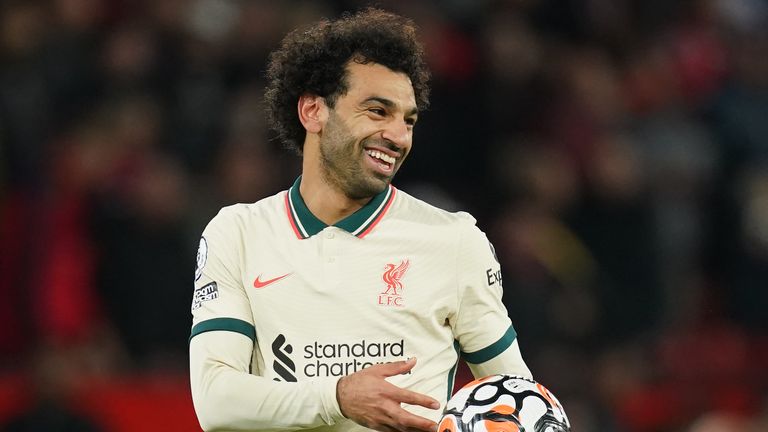 Diaz appears to have established a starting position on the left side in Klopp's 4-3-3 formation after Sadio Mane's departure to Bayern Munich, but a familiar face remains on the other side. there is
Mohamed Salah, who signed a new three-year contract in the summer, remains a key Liverpool player, scoring against Fulham and Manchester United.
Both players play important roles in Klopp's forward line, but Diaz admitted he still agreed to play for the same team as Salah.
"It's been great for me to share my position on the team with Mo," Diaz said. "I've seen him on TV in many tournaments over the years. I'm proud to have reached this position where I can wear the same shirt, wear the same shirt, and share these experiences with his teammates. Thing.
"Playing with a player like him every day helps me grow not only as a player but also as a person, in the sense of football.
"He's a wonderful person and there's a very special connection between him and me and all of us."